Urban Chic: Pallet Wood Stacked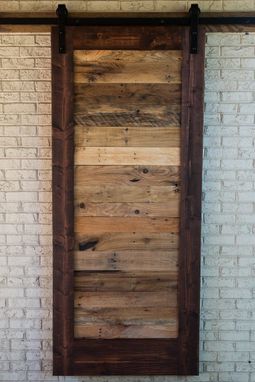 Here at the "Shack" we are all about reclaiming and reusing things, wood especially. We will use a lot of reclaimed pallet wood, steel, and barn wood on theses doors.

Truly unique, well-traveled and full of character, each one will be different with its own personality. A perfect conversation starter for that kitchen pantry or any other space that needs a great door that is also a Ramshackle Art Piece.

Our Doors come fully assembled and complete with a standard hardware kit sized properly for your door, including an additional matching header board. The standard hardware kit comes in flat black and does require some assembly and installation.

Don't forget, we recommend you purchase a door at least 1 inch wider and no shorter than what you intend to cover, including trim, and the hardware and header need at least 6 inches between the top of the door and ceiling.

Shipping is included, standard door widths are available up to 36 inches wide and 96 inches tall.

Please feel free to email us with any questions.