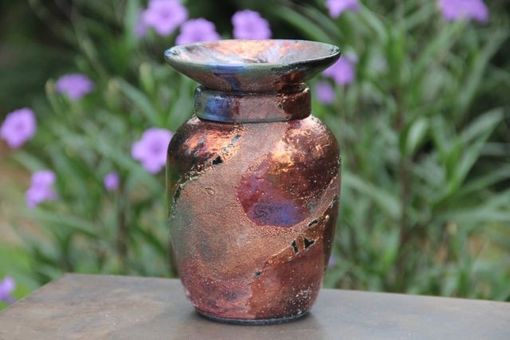 The unique colors and patterns of this urn were created by a Japanese technique called Raku. This is a process by which pottery is fired at a relatively low temperature and then moved while hot to a closed container with combustible materials, such as paper or sawdust, that ignite and cause a reaction creating variant colors and patterns in the pottery's surface.

Our company was formed from the desire to live in syntropy. Syntropy means to gradually move into higher and higher states of order and perfection. To us, this means making a commitment to consciously living what the Universe has caused us to become - creative, spiritual, compassionate, accepting, and grateful. Our company's syntropic intention is to express spiritual creativity by honoring the life and death of loved ones, capturing significant moments and recognizing the magic of ordinary days.
Dimensions: This is a sample of the "Reflections" urn. A custom-made urn would be made to meet the customer's needs.
All of our products are handmade
by expert makers.