Us Army Garden Stone Personalized, Made To Order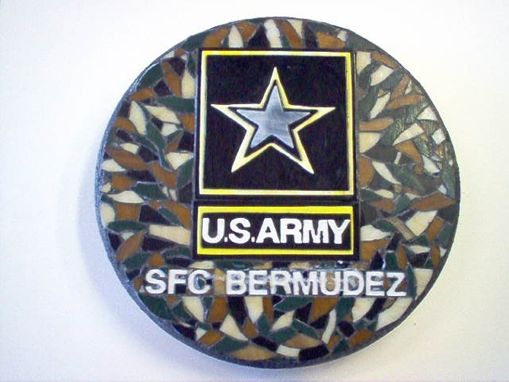 This is just for that solder in your life.
This specific stone was made for the former "SFC Bermudez" as a Fathers Day gift.

Has the Army logo in black, yellow and white. With the rank of the soldier just below it in white letters. The background of the stone is in the camo format and colors. Has been finished with black grout.

The stone is both of mosaic glass and fused glass. And has been sealed against the weather.

The stone is 16" in diameter and made of cement with reinforced wire in the stone, with 2 heavy hooks on the back that allows you to hang this stone. Of course you could always place it in your garden as well!

Any questions, please just ask!

Letters for rank and name are just $1.00 each. Tell us the rank and name.

Ships within 3-4 weeks.