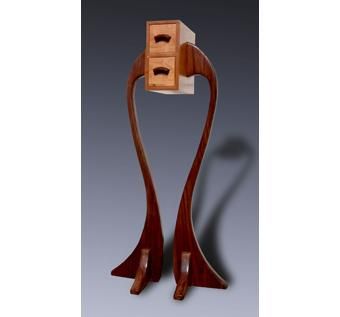 Things to store in the top drawer: good intentions; a lock of your partner's hair; a love letter gone yellow with age; your forebear's locket; or the collar of the dog that you still miss so badly if feels like a vise on your heart.

Things to store in the bottom drawer: Keys which unlock something, though you can't remember what, though might could be it's something important; treasure maps; post-cards from your children the first time they went away on their own; various and sundry naughty things; more keys, these the ones to the kingdom.


A walnut, cherry, goncolo alves, cocobolo and birdseye maple, two-drawer cabinet for small but important things that should not be forgotten.