Vanilla Soy Candle, French Vanilla, White, Bronze Daisy Lid, Hemp Wick, 12 Ounce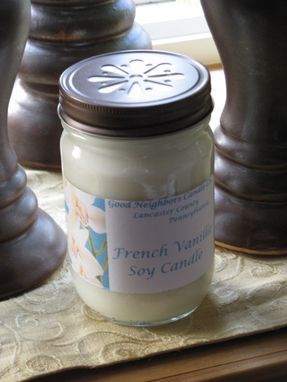 A safe choice. Kind of like choosing the Vanilla Ice Cream when faced with a myriad of flavors this soft fragrance is on my best seller list. Whether you are looking for something for a guest room or a gift for a friend, this is a great choice. Want candles for your tabletop? This scent is perfect.

This is a medium strength fragrance. A very pleasant sweet vanilla.

This 12 ounce candles has a hemp wick and the soy cleans up easily with soap and water so that you can re-use the jar. For safety it is recommended that you extinguish the candle when approximately 1/4 inch of wax remains.