Saturnworks Effects Pedals Collection: Fuzz, Octavia, And Auto Wah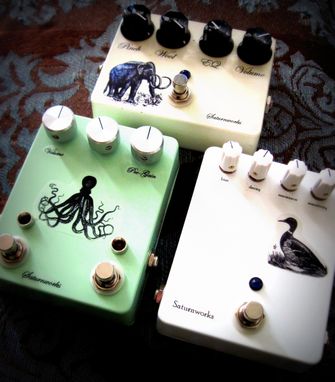 This suite of custom pedals was commissioned by local (Davis, CA) musician and producer Toby Seeger:

www.youtube.com/user/tobiaseegerhttps://soundcloud.com/tobia-toby-seeger

This collection includes a Mastodon Fuzz pedal, an Octavia pedal, and an auto wah pedal.

These pedal feature top of the line components including powder-coated aluminum die-cast enclosure, Neutrick brand jacks, 'premier' footswitches, and Alpha potentiometers. They are powered with a standard 9v 'Boss' style adapter.

The listed cost is for all three pedals shown.