Varsity Jacket Patch For Esc Raiders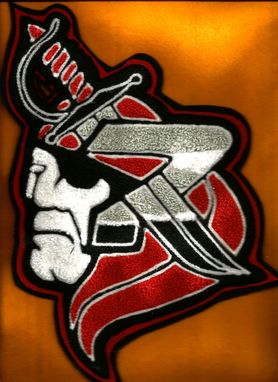 I make jacket art/patches for bands, businesses, clubs, schools, and individuals who like to fly their freak flag. This particular patch was made for our local high school. Too often, patches like this are farmed out by sporting good stores that sell the varsity jackets to large mills or overseas sweatshops. My community knows that my prices and workmanship are better, so they come to me when they need a mascot for their jackets. I'm showing this ESC Raider as an example of the intricacy of what I can do with jacket art. This guy is a combination of chenille cotton chain and chenille yarn moss stitch embroidery and is about ten inches wide and twelve inches high. Prices for jacket art/patches depend on size, number of colors, and intricacy of design.
All of our products are handmade
by expert makers.