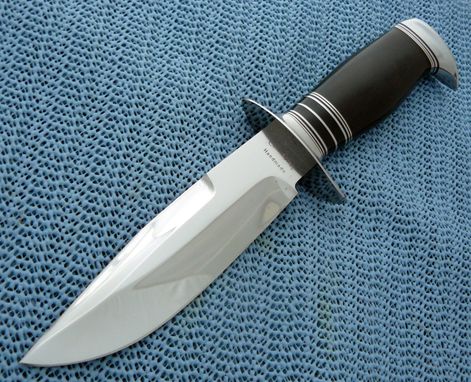 Vest Bowie, to date this was one of my most interesting knives to make,the handle on this Dress "Vest Bowie" is jet black Indian Ebony with a combo of buffalo horn,G-10 & stainless steel spacers.
Sharpened top swadge with mirror polished hollow grinds & sating finished flats, the guard & pommel are flared 416 stainless steel.
Dimensions: 5" 3/4" blade with an overall length of 10" 1/2".
All of our products are handmade
by expert makers.
Cyndy C.'s review

• Apr 6th 2017

I ordered a vest bowie knife for a gift for my husband. Gill was very helpful in guiding me through the process. The knife is beautifully done. Gill's work is exceptional. I would not hesitate to order from Gill again.

LAVORA P.'s review

• Feb 5th 2016

The knife I had Gill make is just gorgeous!! He was great to work with. I will definitely refer him to anyone wanting a one & only kind of knife! Thank you so much Gill!!