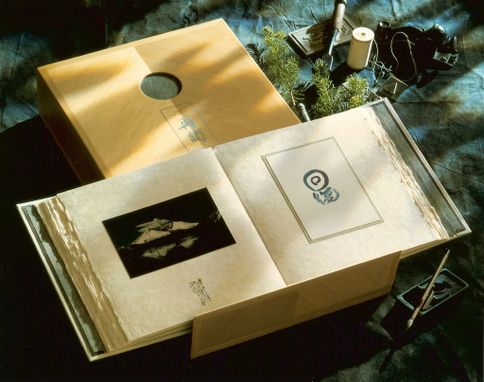 This presentation box was commissioned by William Allen and Associates to contain a very special book to be presented by the Weyherhauser Co. on the 10th anniversary of the eruption of Mt. St. Helens. The recipient was the CEO of their biggest client in Japan.

The book was made with hand-made paper and the text chronicaling the history, eruption, and recovery of the mountain was all done by hand. Historical photos as well as specially commissioned new photos beautifully described the essence and power of the now sleeping giant.

The box is made of VG fir veneer and lumber finished with many coats of hand-rubbed lacquer. A slide out tray contains the book and provides a gently sloped platform for reading.

Inset into the top of the box is a sealed glass container holding ash from the mountain's eruption and a sprig of a fir tree to symbolize the recovery of the forests devastated by the eruption.

I feel humbled whenever I think of the honor given to me for being part of that gift.
Dimensions: Approximately 11" x 11" x 4 1/2" high.
All of our products are handmade
by expert makers.