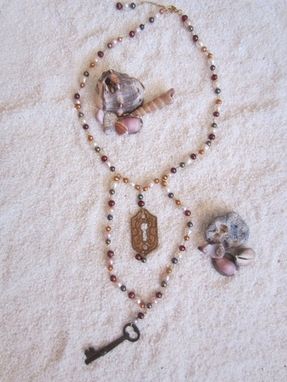 Victoria removed the sculpted key plate from her cherished suite #16, the first place she called her own. Mindfully she placed it and key inside her velveteen breast pocket. Throwing caution to the wind, she hailed a taxi bound for the nearest sea port.

Today she was moving to a new land of adventure.

Antique 1800's brass salvage key plate & skeleton key marked #16 from San Diego, Ca
Freshwater pearls in gold, wine, iridescent black & soft pink
all gold accents are 24 karat gold filled.

Inside drop length 20" with an additional drop of 10"

This is a one of a kind piece using vintage elements.