Vineyard Wine Rack Cabinet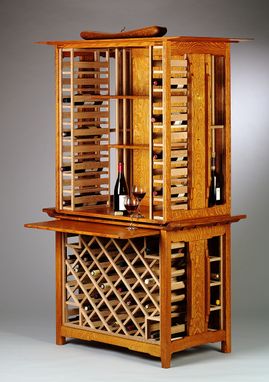 I evolved an Arts & Crafts tall cabinet design in the "Vineyard" Wine Cabinet. It is simplified in design so that the interior can be further customized. The "Vineyard" Wine Cabinet is made in quartersawn white oak throughout. With open sides and a highly finished back this cabinet can be displayed in your basement, dining room, living room, kitchen, or wherever you want.

The cabinet base holds, in front, 36 bottles and 4 magnums, with a pull out shelf above the rack, and toward the back on each side are four shelves for magnums. The top chest has in front, horizontal racks holding 9 bottles each with adjustable shelving in between. Toward the back on the sides are shelves accessible for vertical storage of taller or half full standing bottles. The middle side panels have veneer marquetry inlays of a black-eyed Susan flower. The cabinet separates easily as the top and base just rest on top of each other. The cabinets are very open for free air flow which is important to good wine keeping and therefore can be placed in any room. Both cabinets are finished in oil and beeswax. The racks themselves are highly sanded and unfinished as is typical.

Horizontal grid wine racks are inexpensive and easy to find but allow the bottle to move from vibration. Diamond grid wine racks, as are in my cabinets, cradle the bottle for better professional storage.

The size is 76" high x 46"wide (at crown, 36" at base) x 24"deep.

The Vineyard Wine Rack Cabinet is completed and currently in stock.
Dimensions: The size is 76" high x 46"wide (at crown, 36" at base) x 24"deep.