Vintage 50s Cherner "Scandal" Preztel Plycraft Chair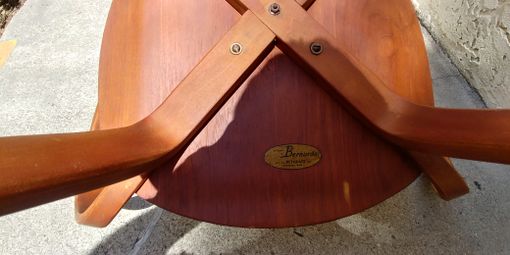 This is the original "SCANDAL" Chair. Here are two links to the proper history of this chair and to the "Cherner Plycraft Pretzel" chair generally. Most of the heavier, often padded "Cherner Pretzel" Chairs being sold are from a restart in the 1980s. They are fab chairs but NOT vintage 50s mid-century.

See this link for true history of all these chairs: http://rosabeltrandesign.blogspot.com/2014/04/the-iconic-pretzel-chair-and-whole.html

See this link for association of MY chair with Norman Rockwell: http://blog.dwr.com/2012/08/28/rockwell-and-cherner-or-how-a-commercial-illustrator-created-a-mid-century-icon/

Provenance. The label on this chair identifies it as a "Bernardo" scandal chair and thus produce in the 50s from the original George Nelson design. This chair came from my Aunt's estate. She was the manager of the famous RIT Shop One for 9 year during the RIT arts and crafts renaissance. She was cutting edge, so this is likely a very early chair.

This chair is laminated solely from old-growth mahogany. It was said these chairs were not sturdy enough so the design was terminated by Cherner early in the 60s. However, before I cleaned this one up to what you see, the arms of this chair were blackened by body oil, showing it was sat upon by my aunt regularly for many years. The chair is in very good shape and all original down to the plastic "feet", except for the screws that hold the arms to the backrest, which were missing when I got it. The original screws are easily found via restoration hardware.

This chair is the real thing, can be worked back to near perfect condition, already looks great, and is true vintage 50's mid-century modern.
All of our products are handmade
by expert makers.