Visalia - Premium Made To Order Wall Units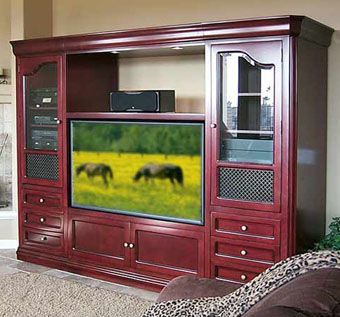 The Visalia furniture system is an innovative approach to custom home theater furniture known as made-to-order. With made-to-order construction you start with a standard base design that can be customized in terms of size, color, style, and layout to perfectly match your needs. This method is more efficient than having to start completely from scratch. The base design for the Visalia includes a TV credenza, a pair of storage/display towers, a TV shelf, and a light bridge. The credenza accepts all television technologies and looks best with sets in the 40 - 73" size range. Electronics, speakers, and media (CDs, DVDs, VHS tapes, and video games) are often organized on the lower portion of the furniture while the upper half typically houses display lights and glass shelves to highlight curio items. Specialized features are included to make the setup, access, and organization of the electronics very easy. A large selection of examples and photographs can be found on our website. Multiple style and color options are available.
Dimensions: Dimensions vary based on the size of the TV being used but usually measure approximately: 92" - 120" Wide x 78 - 90" High x 20 - 24" Deep.