Vp's Jewelry Fashion Necklace And Earring Sets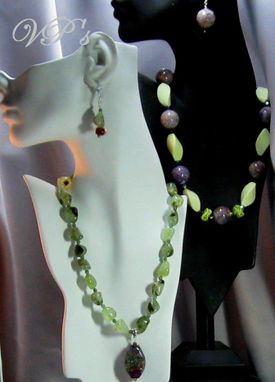 VP's Jewelry offer the classic look in our handcrafted fashion necklace and earring sets. Aquamarine handmade jewelry, amethyst handmade jewelry and turquoise handmade jewelry all can be found here at VP's Jewelry. VP's Jewelry also offers whimsical handmade necklace and earrings for your fun loving side.

Fine handmade jewelry makes a wonderful birthday or anniversary gift for that special person or yourself that will be cherished for years. Traditional Anniversary gift Ideas are: 7th COPPER, 15th CRYSTAL, 17th QUARTZ, 19th AMETHYST and 30th PEARL. The modern anniversary gift idea include 3rd CRYSTAL, 11th FASHION JEWELRY, 12th PEARLS. Fine Handmade Jewelry using unique stones like Sleeping Beauty Turquoise, Russian Amazonite, Montana Covelite, Peruvian Pink Opals, Idaho Hidden Valley Jasper, Mookaite and Coober Pedy Opals. Artisan Handmade Lampwork beads have been used in VP's Jewelry. Gem stone from around the world all are used in VP's Fine handmade jewelry.

One-of-a-kind handmade lampwork beaded necklaces and earrings made by renowned glass artisans.

Necklaces and Earring - Sets in 14K gold filled and sterling silver, Swarovski crystal necklaces and earring sets.
Dimensions: Vp's JJewelry Necklace and Earring Sets can be purchase @ www.vpsjewelry.com