Walking Stick/Cane: The Hunter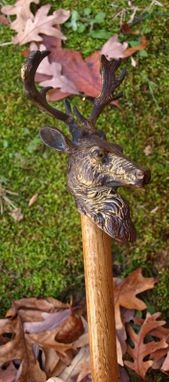 Topping this one inch thick solid oak shaft is an antique Irish Elk head. The head is made of very heavy metal, probably bronze, and appears to have had gold gilt on it. This is a very old piece probably from the 1800s. I purchased this at a local flea market and I have never seen another one like it. On the shaft I carved some great quotes about hunting:

"If some animals are good at hunting and others are suitable for hunting, then the Gods must clearly smile on hunting." --Aristotle
"In a civilized and cultivated country wild animals only continue to exist at all when preserved by sportsmen." --President Theodore Roosevelt
"Vegetarians are cool. All I eat are vegetarians -except for the occasional mountain lion steak." --Ted Nugent

This would be a great item for anyone who loves hunting or just walking in the woods.
All of our products are handmade
by expert makers.