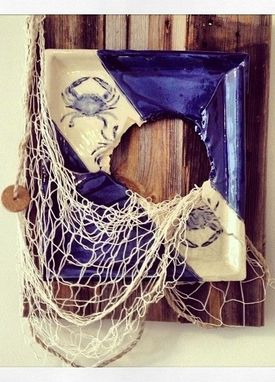 When this platter ruptured during the bisque fire, I thought it was a complete loss! I decided to apply the glaze and fuse it together and see what came of it... well, it ended up being my daughters (an artist and teacher) favorite piece! I drilled it and attached it to barn wood. It now holds a prominent position on my daughters dining room wall. The piece was made from white stoneware clay, bisque fired to cone 06, glazed with cobalt blue and fired to cone 6.

Pricing for a simple piece like this w/o the barn wood would be in the $100-200 range... Wall pieces in 3D could be much more depending on the detail... Watch for new pieces!
All of our products are handmade
by expert makers.