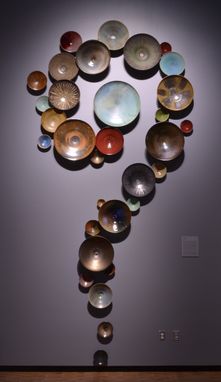 This project is an installation of what I call my "Wall-Bowls." My Wall-Bowls can be hung separately, but they are more fun in groups. Depending on the glazed surface of each form, some are functional, yet some are not.

These wall-mounted bowls are ceramic stoneware, made on the pottery wheel and fired in a gas kiln.

I have done several of these installations in both homes, restaurants, and professional offices.

These bowls have strong elements of contemporary asian pottery form and glaze aesthetics. However, the manner of glaze application and display of the pieces relegates this work to a modern or even post-modern aesthetic.

I make a wide variety of sizes (from 3" to 36"). Size and quantity of these forms dictate pricing.