Wall Hanging Kinetic Stainless Steel Rolling Ball Sculpture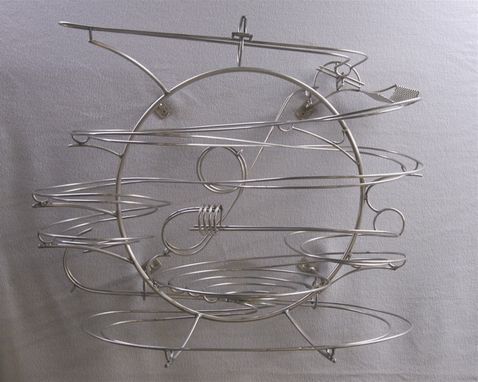 This project is a wall mounted piece made entirely of welded stainless steel. The track is made of 1/8", the frame of 1/4" rod. A small section of perforated stainless sheet is employed as a catch mechanism near the track switch.

Eight glass 1" marbles are loaded on the topmost track and their release is governed by a hand-operated gate. The single track is split into two tracks just inches from the gate and four marbles are sent down each of the two tracks interacting with various loops, turns, spirals and flips until they reach the bottom and come to rest.

This sculpture is suitable for home or office use and mounts to the wall using ordinary screws set through pre-drilled holes in the feet of the sculpture.
All of our products are handmade
by expert makers.