Wall Mounted Wire Sculpture Portrait Of Man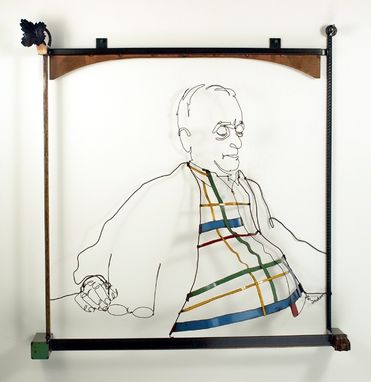 Wall mounted wire sculpture portrait of man with plaid shirt made from cut pieces of colored sheet metal. Wire, colored sheet metal, found objects (in frame).

COLLECTION
Commissioned sculpture for the entrance lobby of an assisted living facility in Pennsylvania.

CERTIFICATION OF AUTHENTICITY
Each work of art is personally signed by Lisa Fedon.

FABRICATION PROCESS
I typically work from photographs to create my wire portraits. I take many photos in the round of the subject and then select the angle, pose, and/or expression that best characterizes him or her. I then embellish the piece with found objects or incorporate other design elements that are fitting to the project. For wall mounted pieces, I create a frame usually accented with found objects, which could include the addition of small personal effects from the subject.
Dimensions: Life size bust.