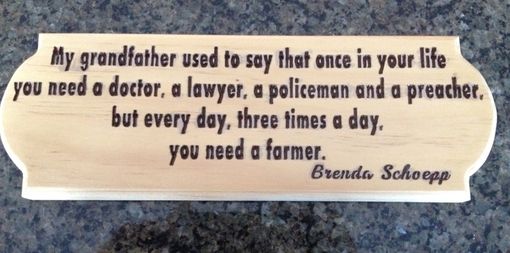 A simple wall plaque touting the importance of farmers was requested by a Milwaukee woman for her daughter's Christmas present. She wanted it small enough to stay within a budget and big enough to be readable for a rather long quote.

I designed it with a straight forward easy to read type on an 12" x 4" poplar plaque with rounded ends and ogee routing. The quote was routed into the plaque with a CNC router and then painted to stain out on the lighter wood plaque.

A keyhole was cut into the back for hanging and two coats of satin polyurethane made for a simple, but profound message. It will hang on the wall of her daughter and was completed in one weeks time.


All of our products are handmade
by expert makers.