Wall Storage Cubby With Peg Rack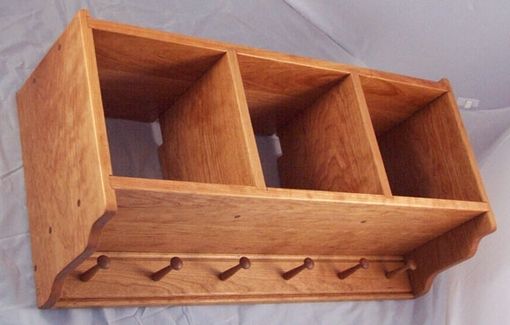 Our wall storage cubby is handcrafted from solid hardwood; no laminates here. Our wall cubby comes with three storage compartments and an integrated Shaker peg rack with 6 pegs.

And the top is also made to be used as a shelf. It will go a long way towards helping you organize your entry way, mud room, garage, or children's room.

32" wide, 10" deep, 15" high

Best of all, it's easy to hang on your wall. The horizontal back brace is removable. Simply level and mount it first, then slide the storage cubbie over it and secure it with screws through the top. Everything is predrilled and comes with all the hardware necessary to mount it including screws, hollow wall drillers, and color matched plugs.

Our wall cubbies come in either an unfinished poplar or finished hardwood and you may also a Colonial End (shown in photo) or a Shaker End, for a more contemporary look.