Walnut Abstract Wood Home Decor Geometric Wall Sculpture Wall Art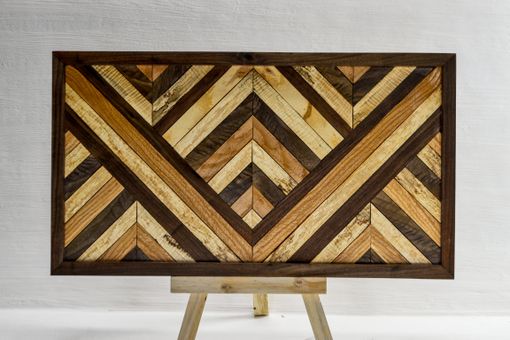 This gorgeous earth toned piece is truly one of a kind. All my art pieces are carefully crafted by ME, by hand.. from start to finish. From choosing the tree, to cutting it down, milling it up, then, design and create stunning, one of a kind art sculptures that will last a lifetime. So, believe me when I say that this mosaic is unique and never will have an identical copy.

The types of wood used in this particular piece are Walnut, Maple, and Ash.

Measurements: (Approximate)
Width: 24 1/2"
Height: 13 3/4"
Thickness: 1"

Mounting: A hanger is attached to the back. You choose hanging direction.

**FOR CUSTOM ORDERS*** Do you like this design but maybe want it sized differently? Maybe different types (colors) of wood? Your custom, made to order piece will be very similar in design to this example shown.
Remember, No two pieces are exactly alike - each is beautiful and unique in its own right. Start to Ship times vary depending on size, wood availability, custom finishes, etc. We can execute every individual order. And can usually ship out in 1-3 weeks. We can adjust the size and colors to your individual needs. To discuss your ideas for customizing it, just send me a message.