Exotic Walnut And Lacewood Mirror Frame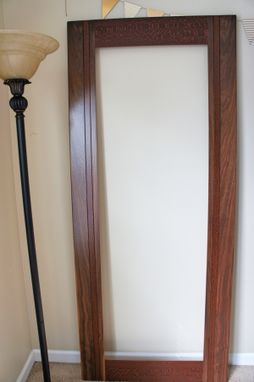 A solid, premium walnut and lacewood mirror frame featuring pocket join style for durability and two part coating system for an heirloom-grade finish that lasts generations.

This sleek, timeless design showcases the curated beauty of our hand-picked selection of woods designed to adapt and adorn to a large variety of design tastes.

Shown is a 78" 3/8 X 33" 3/4 Head-to-Toe mirror with lacewood accents finished to enhance the natural beauty of a dazzling wood grain against a bold walnut grain. This frame is then finished in a two-component Swedish finish for enhanced durability.

All of our pieces are:

- Made-to-order by dimension and desired finishing options
- Made of solid, hand-picked kiln dried wood batches for lasting structural integrity
- Crafted using the latest precision tools to ensure durability
- Finished in a painstaking process that enhances the unique beauty of each piece
- Are coated with a lifetime-rated, resilient finish that can be refinished multiple times to resist common household wear for generations

* This mirror is ready to ship, we will insert the mirror after purchase. Shipping rate is an estimate only. Send us a message for a quote based on your location.