Walnut Chinese Style Coffee Table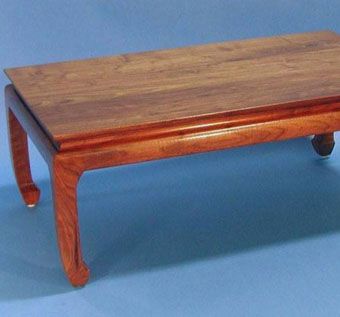 Material: Black Walnut
Finish: Medium sheen Waterlox (tung oil/linseed oil blend)

I first came to admire the timeless qualities of antique Chinese furniture on a youthful visit to the Philadelphia Art Museum, which has a wonderful collection of Chinese pieces as well as a complete scholar's study. Even in the 16th century, this furniture had a calm, clarity, and beauty of proportion which contrasts with the boxy, fussy, and clumsy European work of the same era. In this piece I tried to capture the strength and serenity of a 16th century original with particular attention to the legs, muscular but graceful. It is by no means a reproduction, however, as the delightfully complex, puzzle-like joinery of the antiques, which is now largely unnecessary thanks to modern glues, would have pushed the cost beyond the reasonable. I'd have liked to try it, though.