Custom Made Walnut Knife Block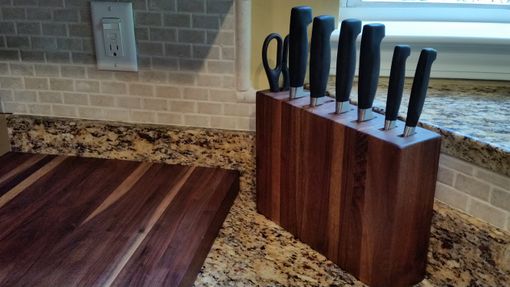 This contemporary walnut knife block fits easily on the counter top, next to the matching custom made cutting board. The knife block is made of black walnut, finished with a customized formula of beeswax, paraffin and food safe mineral oil for long lasting care of the wood.
The dimensions of this block are 8 1/4" H x 3" W x 11" L and this block can be modified with your choice of wood and dimension to fit your kitchen or bar area.
If you have another wood type in mind, please let us know and we will work with you to create your custom knife block. To calculate your cost, allow for $22.00 per slot, including scissors, steel, knife, etc.
Thank you.
All of our products are handmade
by expert makers.
Linda M.'s review

• Aug 24th 2020

Over the years, I refined my idea for my perfect knife block. Exasperated with the ones I had, I looked for a custom woodworker and found Denny online. I am so very happy with what he made me. Essentially two knifeblocks, they are absolutely gorgeous! I now have a perfect home for all my knives. Denny was great at communicating throughout the process. He also sent interim photos and included cutting board wax to keep the knifeblocks beautiful for years to come.
I wholeheartedly recommend Debner Fine Art and Furniture. It was such a pleasure working with Denny and I couldn't be more happy with my knifeblocks.

Rodes H.'s review

• Oct 28th 2019

We are extremely please with both the quality, functionality and appearance of our new knife block. Denny was a pleasure to deal with throughout the process

Molly M.'s review

• Sep 26th 2019

Denny was a pleasure to work with - skilled, responsive, and timely. The finished product is beautiful. We are lucky to have found him!

Eric C.'s review

• Apr 27th 2017

The Debners did a great job. I ordered a knife block. They live 30 minutes from me so I was able to bring my knives to them and they made custom slots for me. They were in constant communication and never failed to deliver on there promises. Complete satisfaction.