Walnut Standing Floor Mirror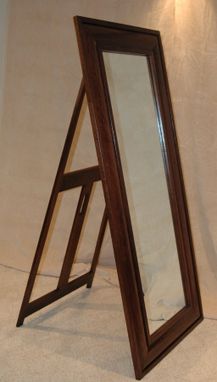 High quality mirror glass is surrounded by the clean bold lines of a solid walnut mirror frame meticulously handcrafted using traditional European joinery without screws or fasteners. The middle section of the six inch wide mirror frame boards are hand planed into an elegant convex shape and the miter joints are hand matched by the same woodworker that proudly signs the piece.



Also made of solid walnut is an easel type support hinged on the back to make this piece truly freestanding while being sufficiently unobtrusive to permit the mirror to be leaned against a wall.



A stain is hand applied and protected by four coats of hand rubbed clear protective finish to bring out the beauty of the natural walnut grain.


Dimensions: Six feet high by 32 inches wide, the walnut standing floor mirror weighs 64 pounds.