Water Lily And Lily Pad Tile Set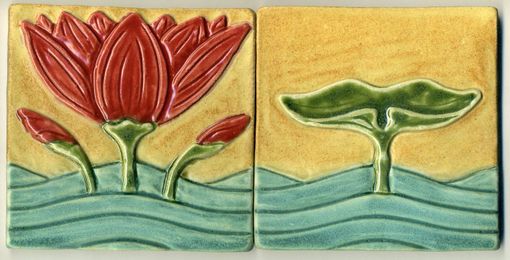 This tile set consists of two water lily tiles and four lily pad tiles (six tiles in total). Each tile measures approximately 5" to 5 1/4" square and is made of durable stoneware ceramic. The set is designed to be installed as a backsplash behind a sink or in a shower, near a tub, or other water feature. The tiles could even be placed out doors as a decorative garden feature.

These tiles are resistant to extremes of heat and cold, freezing and thawing. They are impervious to moisture.
Dimensions: Each tile: approx. 5" to 5 1/4" square.
Total overall dimensions: 5 1/4" high by approx. 31 1/2" with grout lines.