Wedding Or Anniversary Vase/Platter With Celtic Knot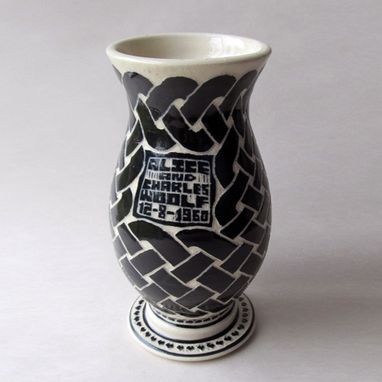 Clay With Me Pottery is the combined loving work of Anna and Neale. Anna throws the forms, while Neale carves through the black under-glaze.

Each vase or platter is meticulously carved with an unbroken Celtic knot and the couple's names along with their special date. Each one is different in size and form - per the customer and due to the nature of the material. I also like to add hearts if the form encourages them.

The Celtic knot symbol is also referred to as the mystic knot, or the endless knot. In ancient times, gifts adorned with mystic knots would be given with best wishes of longevity, or luck with new endeavors. Celtic knots have no beginning or end, reminding us of the timeless nature of our spirit.

We email photos of the entire process to ensure that you are completely satisfied with your purchase.
Dimensions: Sizes will vary depending on whether you choose a platter or a vase. We make platters up to 14" wide at $300 and vases up to 12" at $250. The photo shows a 7" by 3.5" vase at $75.
All of our products are handmade
by expert makers.