Weddings Invitation Card Save The Date Hand Crafted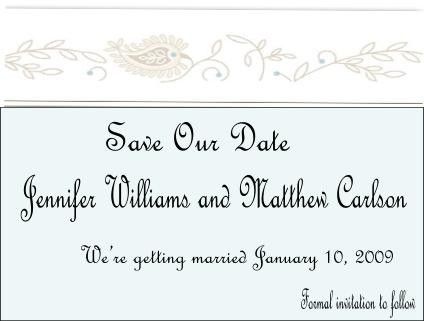 Available in this listing is a really cute paisley bordered Save the Date Card. This is for a set of 100 cards and envelopes. Cards are 4 1\/4 x 6 1\/2" printed on soft blue cardstock with a creme paisley border with blue accents, text is in black.

Colors can be changed as well as font style so please don't hesitate to ask, I will customize any item to fit your needs.

All envelopes are pre-printed with return address on them as well.

If you are looking for a full wedding set and you like this style it is available for invitations, response cards, reception cards as well.
A set of 100 invitations and envelopes would be 200.00
Response cards w\/ envelopes would be 125.00
Reception cards, and direction cards, placecards would be 55.00 per set

I also do custom orders so if you are searching for just the right wedding stationary and don't seem to be finding it please let me know and we can create for you just what you are looking for.
Please allow 2 - 3 weeks for delivery- I always try to get it to you in less than 2 weeks but I like to have a little buffer just in case things happen that are beyond my control.
I apprecaite you looking and please let me know if there is anything I can create for your day.

We are now offering some wonderful new design elements and will have pictures up soon but I am delighted to share them with you, we are doing some wonderful embossing on custom stationery pieces, for example we can emboss a pattern onto the matting layer or do a border around the printed info, we have many designs available and I am working on finding an amazing artist who can do custom embossing folders for me.
We are also now offering letterpress - now at this time we are not doing full text letterpress as we are just getting started, but we are doing design elements such as monograms, borderes, flowers, swirls, etc. Custom plates will be made so we can really do just about any design. Please allow for additional time as this is a much more time consuming process, as well as having to have custom plates made.

Please drop me an email and we can talk about ideas you may have. The listings you see in my shop are all customizable, and can even be used as jumping off points, an idea to get us started in the direction you envision.



All of our products are handmade
by expert makers.