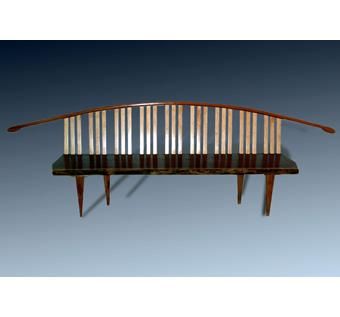 This seat of this bench is a single slab of wenge, with a the front edge left live (keeping the original contours of the outer edge of the tree), with a blonde edging. It is over 2" thick and solid. And heavy. The legs are cherry, the triplets of uprights are maple. The railing is a single, tensioned arc of armarillo, most widely used at the flooring of horse trailers due to its very great density and its inert reactive qualities to horse urine. (Unlike oak, it does not produce noxious fumes.) (This final quality largely irrelevant vis a vis use as a railing in this bench.

The top-rail extends far beyond the left and right bounds of the seating itself.

Because that's how it needed to be.
Dimensions: 7'3"W x 32"H x 22"D