For Sale - "Wetterhorn Peak" - Bavarian Style Dining Buffet Food Dresser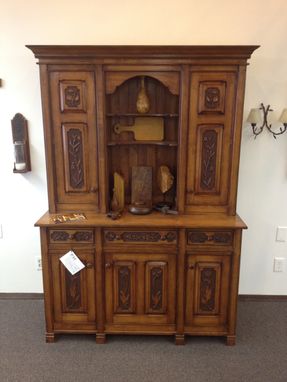 This delightful Germanic/Slavic inspired food dresser reflects the flavors of the old Austro-Hungarian
Empire. It is a two piece buffet or food "dresser," made of American alder timbers, 81" high X 56" wide X
21" deep at the base and 11" deep at the upper cabinet. You can almost taste the beef rouladen,
wienerschnitzel, or chicken paprikash, all washed down with a bright, golden Rhinefalz wine being served
from this gem as the strains of Mozart's "Haffner" symphony echo softly in the background.
It is a Rocky Mountain replica, true to its 1850's heritage, yet with its own Western qualities. All the door
and drawer panels are Colorado wildflowers, carved by hand. The top cabinet door panels are Skunk
Cabbage and Harebells. The lower outside doors are Coneflowers, and the center door panels are
Shooting Stars. The outside drawer fronts are Cinquefoil and the center drawer is decorated with
Kinnekinick and Snow Drops. The interior shelves are adjustable, using the traditional, central European
wooden stanchions that we lovingly call "lightning bolts." This piece was designed to store serving and
dining china, stemware, flatware and table linens. The upper center opening has adjustable shelves for
the storage and display of fine china or decanters of port and brandy.
Dimensions: 81" high, 56" wide, 21" deep (lower cabinet), 11" deep (upper cabinet)
All of our products are handmade
by expert makers.