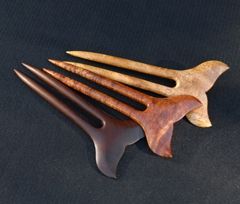 Hair ornaments are something virtually every culture has developed. They are both ornamental and practical. The Polynesian culture, of which Hawaii is a part, is no exception and both men and women often have long hair, in many cases because they are hula dancers.

I have designed our Whale Tail hair sticks to keep long hair in place, on top of the head, whether it be thick or thin. The pins, or tines are formed to a gentle curve and tapered so that as it is put in place the hair is locked in. The timeless design of the stylized whale tail is suitable for casual or formal settings and they are light so once in place they are barely felt.

I am very particular about the wood I choose for these as they are so small the piece needs to be highly figured in order to show the grain patterns and beauty of the wood. The piece also needs to be strong as it will serve tough duty over the years. We finish our hair sticks with a durable exterior varnish which is then buffed and waxed to a fine antique finish.
Dimensions: Double prong (pictured) 6" overall, by 2 1/4" across the flukes.