White Oak Stained Bathroom Vanity - Open Style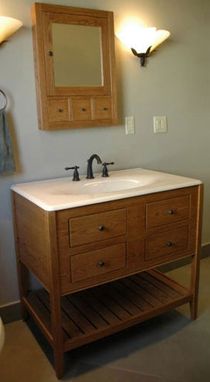 Whether you choose our Shaker cabinet style bathroom vanity, our Open style bathroom vanity, or have a custom idea, it's now available in white oak, crafted from solid American hardwood; no MDF, no particle board. White oak is exceptionally strong and is often used in boat building. And all finishes are protected by six coats of wiped on satin polyurethane.

The open vanities are available with or without drawers. You also have the option to have a shelf on the bottom, and a choice of a slated shelf or solid shelf.

The vanities are hand made one at a time so you can have it made your way.

Handmade in Michigan
All of our products are handmade
by expert makers.
Pete D.'s review

• Feb 16th 2018

My impression of this maker is a series of missed deadlines and poor/non-existent communication.

Aug 30, 2017 – I accepted proposal for a vanity that was to ship in 7 weeks.

Oct 28, 2017 – 8 weeks had elapsed, so I asked for an update.

Oct 29, 2017 – Receive a response. Turns out it was supply issue for the lumber. Bummer, but why not inform the client when you miss an agreed-upon benchmark? Was also told, "Your vanity and medicine cabinet are completed and I will drop them off tomorrow to be packaged and shipped out."

Nov 3,8, 2017 – I ask for tracking info since the "tomorrow" of Oct 29 had passed. Was trying to determine the delivery date because I was traveling for work.

Nov 9, 2017 – Receive tracking info. Shipping actually occurred Nov 7 (another missed deadline).

Nov 13, 2017 – Packages were left at my front door by UPS. They sat there for 5 calendar days as I was gone on business.

Nov 20, 2017 – Opened the boxes and discovered the vanity arrived with a damaged door. Reported to the maker. He indicated he would make another door. Great.

Dec 9, 2017 – I ask for a follow-up about the production schedule of the door. Just wanted an approximate timeline.

Dec 13, 2017 – Was told, "I plan on working on it next week."

Jan I4, 2018 – "Next week" had long elapsed and I again inquired about the door (another missed deadline).

Jan 25, 2018 – No reply from Jan 14 so I began a Dispute Resolution claim with Custom Made due to non-communication. Why should a client have to do this?

Jan 27, 2018 – The maker replied indicating that the replacement door had been made/stained. Polyurethane would be applied and it would be sent.

Feb 2,7 2018 – I again ask the timeline since in my mind the door is slightly larger than a sheet of legal paper (12.5" x20"). How long would it take to apply polyurethane? No reply.

Feb 9, 2018 – I use Dispute Resolution to again force contact. This time I'm told by Custom Made, "The door will be dropped off to the shipping and packaging company tomorrow, he will receive the door later next week."

Feb 16, 2018 – 3 months later I received the replacement door.

Ultimately I felt I had to force the maker to comply with his own statements using the Dispute Resolution process. My opinion is you as a buyer are owed better than this.