Wholesale Lot Small Crosses, Ready To Ship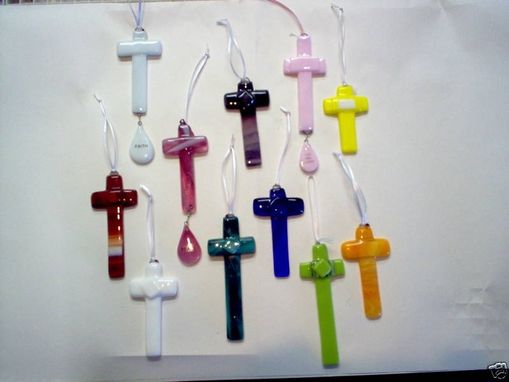 Wholesale lot of beautiful crosses, each one is hand cut, designed and fired in our studio kilns. These crosses are all of top quality and workmanship. They measure from 3 3/4" tall x 1 3/4" wide, to 4 3/4" tall x 1 3/4" wide. Are a perfect size for your car mirror. It reflects color and beauty into any room.

They all come ready to hang with a ribbon. This lot is a sample of the colors you will receive, each is unique and all are beautiful.
Each lot will consist of 25 crosses with a mix of colors (see sample photo).
Multiple lots of 3 or more purchased within the same 10 day period will ship free and contain an extra 5 crosses. The photo shows crosses with dangles and worded phrases. These are only shown for there color, this lot does not contain any dangle or worded cross.