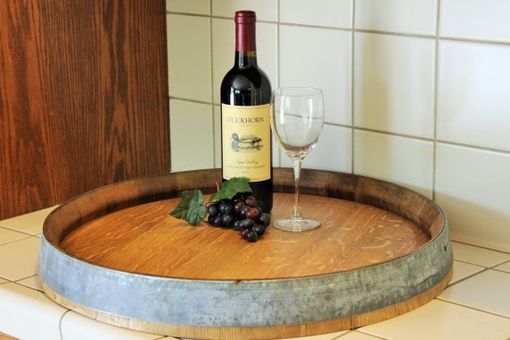 Our Lazy Susan is made from the top three inches of a reclaimed Napa Valley wine barrel with the original banding still in tact. This one does not have the cooperage markings branded into the head that some of our other Lazy Susan's do, but it is beautiful none the less.

It is a hand made Lazy Susan that we make by removing the top portion of the barrel as a whole piece. Then it is sanded fine using 320 grit sand paper. It has a natural linseed oil finish with Howard's Butcher Block Conditioner to seal it all in. It is then finished with aluminum lazy susan bearings - rated for up to @ 75 lbs.

This stunning piece is a compliment to any table especially when used as designed to pass around all the goodies at your meal.

This is made from 3/4" oak and weighs about 15 lbs.

Approximate dimensions: 24"W x 4"H


All of our products are one of a kind and custom made. Due to the nature of the reclaimed material used there will be differences from the pictures posted, as each barrel is unique in it's wood grain patterns, coloring, markings, logo's, measurements and sizes.

Thank you for your patronage!

All of our products are handmade
by expert makers.