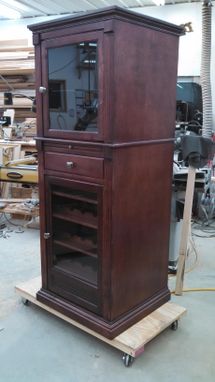 Here's the original request we received: I'd like it to look like this link: http://www.samsclub.com/sams/providence-wine-curio-cabinet/prod8070108.ip However I'd like to be able to fit the bottom with http://www.costco.com/Wine-Enthusiast-16-bottle-Touchscreen-Wine-Refrigerator.product.11632127.html instead of the regular wine rack only. So the dept listed above will have to change, I'm open for any other brands/type that will fit nicely within that space. To recap the wine cabinet should look the same as the first link, however the bottom should be able to fit a wine cooler. 18-25 bottles will do. The available spot is roughly as listed of 25w x 25d x 76h give or take an inch if needed.

Here are some details on the project from the maker: Vinh I am very pleased to offer you the following proposal Revised Proposal of:
Vinh's Wine Cabinet with the following dimensions;

Width: 28in
Dept: 26in
Height: 76in



* It will provide function and form like the following piece except bigger to accommodate more storage space: http://www.samsclub.com/sams/providence-wine-curio-cabinet/prod8070108.ip
* The wine storage space can be converted to house a wine cooler frig, if a frig is not used, it can be used as a regular wine rack so appropriate removable shelves space will be provided.
Removable Shelves.
* The intended space should be able to house approx. 5 rows of bottles details to be determined with spacing.

* The lower half of the back maybe removable from the back only- also can provide ventilation in case a wine cooler is used if needed cross venting.
Product Dimensions: 23.4" W x 22.4" D x 33.0" H Frig

* There will be led lighting on the top half just like as shown in the previous link.
Puck style LED lighting in top section.
* There will be a pull out tray and a small pull out drawer just like the previous link.
* There will be stem glass rack w/adjustable glass shelf on the top half like previous link.
*Bottom section built to accommodate listed Wine cooler
http://www.newair.com/products/AWR-460DB/#bottom-product-info-link
*Given that above mentioned fridg is used (provided by customer)
The front door will have a removable glass panel that can be replaced with a vented flat panel using adjustable glass clips or other removable hardware to accommodate this transition.

Both Doors will open to the right per customer request.
Solid Birch and Birch Veneer ply substrate wine cabinet with the following specifications:


* The material is Birch? with birch veneer, dark.
I can provide a picture for color matching purpose if needed. (COLOR to be selected)
I will include my color specifiers to match color.
Cabinet will be drilled and set up for shelves (shelves included) if customer chooses to use the lower 1/2 as cabinet again.
Back will be removable on the lower 1/2 as well and will have ventilation as well for frig heat dissipation.
This cabinet will come either 1 or 2 pieces depending on shipping requirements. (pending)
Cabinet will be based off of pix provided by customer as well as sketch provided. Some modifications may be needed to allow of accommodations.
Stain color to be determined based off specifiers.
Cabinet will be finished with all Sherwin Williams commercial products:
Wiping stain, vinyl sealer and two additional top coats of Lacquer.
Delivered
Phone number and complete address required to make final determination to delivery. They will contact you to when they will be deliver.

Vinh I truly look forward to the opportunity to work with you and to serve your needs.

In your continued service,

Tim J. Ziegler
Ziegler WoodWork & Specialty
All of our products are handmade
by expert makers.