Women's Silk Prayer Shawl (Tallit)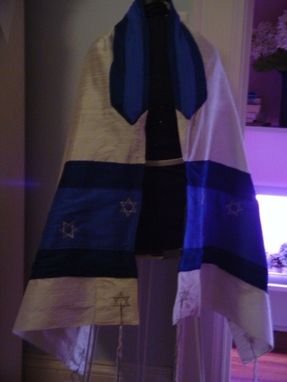 Custom made prayer shawls for women come in two styles. Tradition with an atarah (collar) or veil like to work as a head covering. Jewish shawls include ritual fringe in sephardic or ashkenazic style. Non Jewish shawls will not include ritual fringe. Silk chiffon is used for veil with your choice or ornamentation. Traditional tallitot are dupioni silk with ornamentation chosen in consultation with customer.
Dimensions: Prices depend on material and style and level of ornamentation. Once I am hired we will consult or length , color etc. $50 non refundable deposit due before I cut fabric.