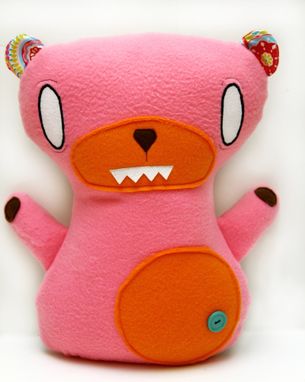 Wonky Bear is a handmade WonkyDoll. Wonky Bears live in the Wonky Woods of Wonky World. It's hard to find one, because they hibernate 358 days a year. What do they do the one week they are not hibernating, you ask? They party hard!

Choose from pink, yellow, or green! Each doll is unique, so your Wonky Bear may differ slightly from the photo. Wonky Bear is approx. 14 inches tall and 12.5 at his widest
He will come with a tag that tells his story.

Each WonkyDoll is lovingly sewn by me. Please allow up to one week for your Wonky Bear to be made.

♥ WonkyDolls are created for the adult collector, and may not be suitable for children.