Wood End Table With Metal Art & Stained Glass Inlay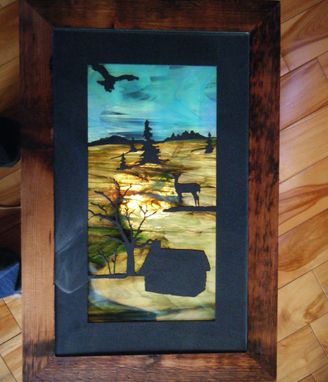 This handcrafted table was made from 200-year-old antique wood. The top of the table is inlaid with a beautiful metal art picture depicting rustic outdoors scene, complete with a cabin, a hawk circling above pine trees, and a deer. The steel is finished with a textured black paint. It is backed with some strikingly brilliant stained glass. I have a can light sitting under the table to further bring out the brilliant colors of the glass. (Light not included.) There is a thick piece of tempered glass over the inlay to provide protection.
Dimensions: The table is 24" x 16" and is 21" tall.