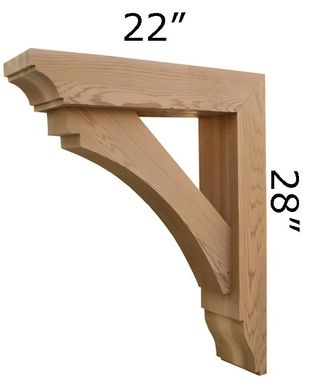 Our high quality Handcrafted Wooden Brackets 02T4 are made out of solid Western Red Cedar. Wood Brackets can be used in a wide variety of exterior and interior applications. Customers use our cedar brackets to accent exterior soffit, front entries, front porches, columns, and gables. Each one of our brackets includes a brace along with a body casing that provides a much bolder look than just a brace alone. All of our products are available in smooth or rough sawn finish, and can be custom made to accommodate your specifc requirements.
Dimensions: Projection: 22"
Height: 28"
Thickness: Smooth 5 1/2" or Rough 6"
Brace Thickness: Smooth 3 1/2" or Rough 4"