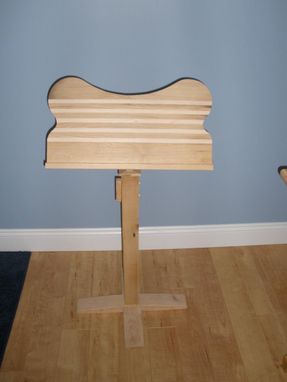 This is an adjustable music stand made completely of wood. The one pictured is maple and chestnut, although any other wood variety is possible. The music holder is designed to look like a musical staff with five maple strips interlaced with the chestnut.

In addition to being very attractive, this stand is made with no mechanical fasteners(nails, screws, etc) other than a few decorative brads on the top frame of the base. This stand is also adjustable from 43" to 52" to accommodate different height musicians and can also be used sitting in a chair.
Dimensions: Base is 20x20 for added stability. Height is adjustable from 43" to 52".