Worded Cross, Ready To Ship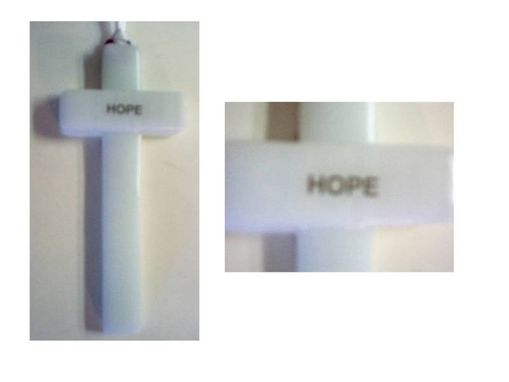 This is a beautiful Milk White fused glass cross. These are fired in our studio kilns at 1465* and annealed for up to 24 hours, which makes them strong and durable. They measures between 3.5" and 4 inches and have a word phrase (of your choice from the list below) on the center of the crossbar and come with a ribbon for hanging. These little beauties are simple and elegant and make great gifts for the office or for the office parties. No one will be disappointed in any of them.

Worded phrases to select from are: LOVE, HOPE, PEACE, JOY, FAITH, Believe, God's Angel, You are Loved, Child of God. All will be in black. Be sure to inform us your choice of phrases, otherwise as shown will be sent (Hope).

The price does not reflect the quality of the workmanship of these little beauties.