Wrought Iron Console Table Hawa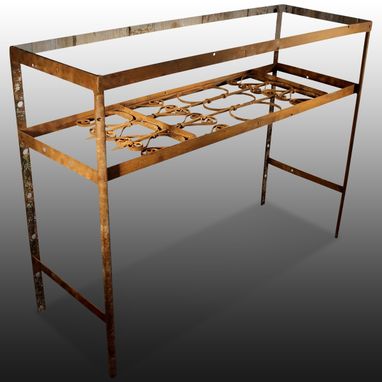 This console table is called Hawa, meaning wind in Arabic because its delicate iron work is thin and airy. It dates back to the 1800s and is made from a balcony salvaged from the town of Aleppo in Northwestern Syria. It could have been part of a palace or wealthy mansion in the old section of town. Aleppo is the largest city of Syria and is one of the oldest continuously inhabited cities in the world. It is on UNESCO's list of World Heritage Sites and was historically significant due to its location at the end of the Silk Road. Today Aleppo's precious heritage is being destroyed by the warring factions.

The front legs of this console are made of demi lune wrought iron bars. The lower shelf is a succession of volutes, circles and arrows artistically held together by rivets and collars. Glass top included,

Dimensions are 48"x 16" x h35"