Wrought Iron Wall Mounted Pot Rack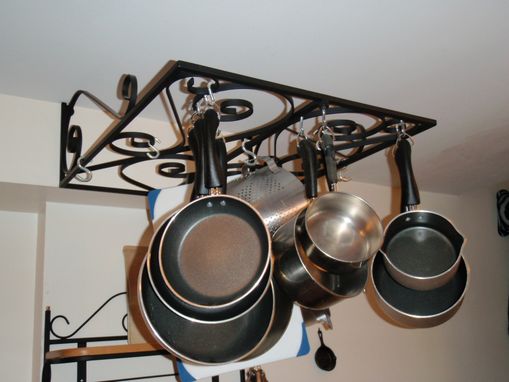 Made in the USA

Item Specifications:
Material: Wrought Iron
Type: Wall mounted pot rack
Mounted/Fastened: Wall mounted
Iron measurement: 1/8" x 1/2" thickness
Unit measurement: 36" x 36" x 12"
Unit weight estimate: 15lbs
Color: By default this item is made in Black. Please feel free to let us know at checkout if you would like another color. We can do any color of your choice.
Storage: Holds pots or any kitchen item that can be hung up
Sizes available: This unit comes in several different sizes. Just let us know at checkout your specific size.
Dimensions: 36" x 36" x 12"