Your Car At Mels Drive-In - Automotive Art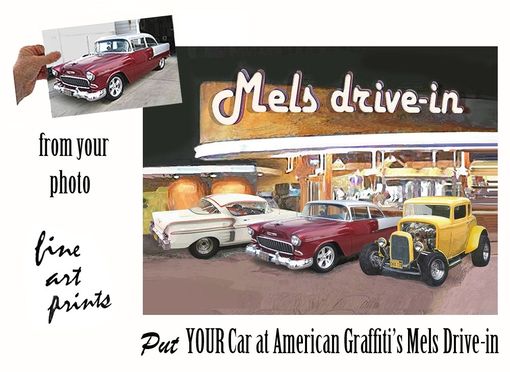 "Mels Drive-in Sightings" Great Gift

If you love American Graffiti, CHECK THIS OUT. We develop custom Photo Paintings of Cars and Choppers. Here's your opportunity to virtually put YOUR CAR at American Graffiti's MELS DRIVE-IN - original artist interpretation - Your Car rendered in the middle position, giving you a one-of-a-kind framable "time capsule" print with brush stroke detail and vivid color. Assuming same angle, email your ride upon purchase, proof supplied. Printed on UltraChrome (no fade) photo paper. 12" x 16" $65, 16"x20" $79 Optional on streched canvas additional - inquire for other sizes and if multiple cars add $30 each car. SafePack Mail Tube Shipping.