Zebra Wood Rocker With Wenge Accents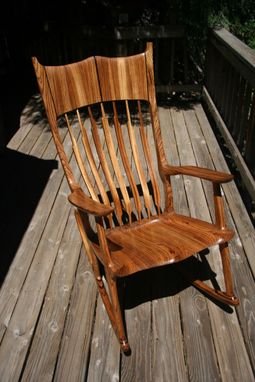 This chair is for sale at this time. Zebra wood is one of the most expensive and beautiful woods that I use for making chairs and other pieces of furniture. The ergonomic design of this style of chair and the zebra wood's unique grain and striking pattern create a functional piece of art that is both wonderful to look at and so very comfortable for sitting. The wenge accents in the headboard, back slats, and runners add to the overall beauty of this chair.
Dimensions: This chair is about 4 feet high and the runners are about 4 feet long.