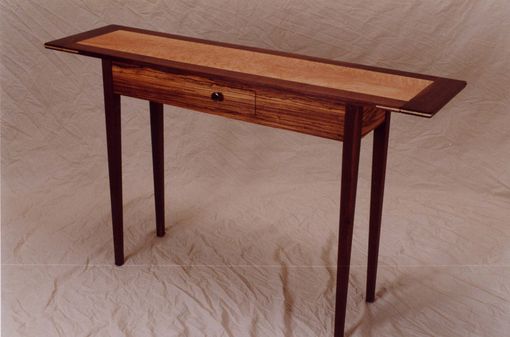 This semi-Shaker style Hall Table with its contemporary flair will fit with almost any style furniture. The drawer front is cut out of the Zebrawood apron to insure the flow of the grain. The figured Maple top is trimmed with Walnut and features a Maple accent. Walnut legs help ground this piece. The table pictured here has a Birdseye Maple top.
Curly Maple, Ambrosia Maple and Spalted Maple are also available.
All of our products are handmade
by expert makers.
Heather M.'s review

• Aug 8th 2020

Ingrid L.'s review

• Feb 15th 2016

Darrin crafted a gorgeous Arts and Crafts-style console table that I gave to my husband as a Christmas present. The craftsmanship is utterly sublime -- it is absolutely perfect. The joinery and finish are silky smooth and flawless. The table looks as though it was made by Berkeley Mills, from whose pieces I drew inspiration in communicating to Darrin what I wanted.

As for communication, Darrin "listened" attentively to what I wanted and asked me a number of questions aimed at ensuring I would be satisfied. He left nothing to chance.

When the piece arrived at my house, I was seriously impressed at the extreme care with which it had been packaged for transport, which included being wrapped in a moving blanket and plastic moving wrap and then placed in a sturdy box that had been reinforced on all sides with rigid panels and styrofoam.

It's reassuring to know that fine wood artisans like Darrin are still around and making the world a bit more beautiful with each of their creations. I highly and enthusiastically recommend Darrin to anyone looking for fine wood craftsmanship, and I plan to use him again myself in the future.