'Zen Moment' Recycled Motorcycle Clock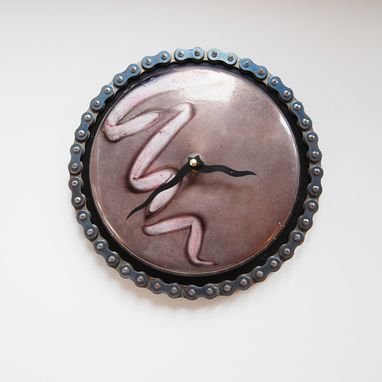 One of my personal favorites!

This beautiful modern industrial clock is unusual in so many ways. It's was put together without bolts holding the sprocket to the backing, so it's a very clean look. It's also the first one I made using a new powder coating technique I developed using two layers of color and disturbing the top layer to create a pattern. Made with a BMW sprocket.

This gorgeous clock is elegant enough to look at home in your living room or kitchen but edgy enough to fit right into his man cave.

Made from 95% recycled materials, 100% unique!

Comes with a AA battery.
Other hand options available.
Clock mechanism is guaranteed for 10 years.

Please note that because we use all recycled materials except the clock mechanisms and bolts, it is impossible for us to recreate any piece exactly. We are happy to work with you to create something similar or alter this particular piece to your specifications.