3 Tier 30 Bulb Chandelier - Industrial Steampunk - Black Malleable Iron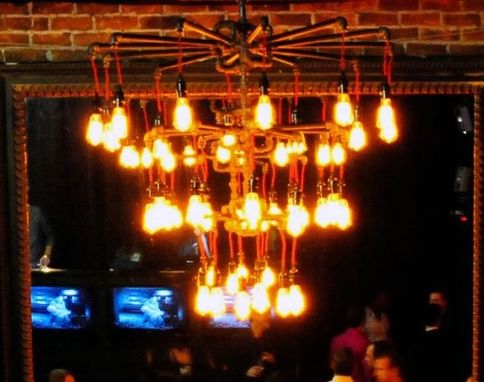 Industrial/Steampunk - Black Malleable Iron - 3 Tier 30 Bulb Chandelier

Milton Douglas Lamp Co. TCH-030

An industrial-chic malleable iron 3 Tier, 30-bulb chandelier, the Milton-Douglas TCH-030 is a substantial chandelier which is sure to leave in impression.

The chandelier is approx. 48" from the top arms to the bottom of the medium base sockets on the lowest tier. The top tier is 48" in diameter, the middle tier is 32" in diameter and the bottom tier is 16" in diameter. It provides direct and indirect lighting and adds a touch of the unusual to your space. The construction is of black iron pipe, which is mid-to-dark silver-grey with a subtle warm tint and extremely solid. Due to the weight, (aprox. 100lbs.) this light must be suspended from a pipe attached to a reinforced ceiling box (Sold Separately). Included is up to 48" of 3/4" black iron pipe to suspend the chandelier from the custom made ceiling flange and universal joint. The 30 antique style Marconi squirrel-cage bulbs may be purchased separately complete the effect (See Below). This pendant is perfect for that large space in which you want to add a bold statement of industrial/antique style.

Specifications:

120V AC
Wattage Rating: 30 x 60W (1,800W total, or 15 Amps. May need it's own circuit. Consult an electrician)
Light bulb: Medium E-26 Base (May be purchased separately)
Malleable Metal Industrial/Steampunk Pipe Design.
Up to 48" mounting pipe (Available Sizes: 2", 6", 12", 18" 24", 36", & 48")
Black Iron Pipe Construction
Height: Approx. 48"
Width: Top Tier 48"; Middle Tier 32", Bottom Tier 16"

This chandelier is also available in a 2-Tier, 18-bulb model (TCH-018)


If you would like to customize your chandelier please contact me. Different styles and colors of cord are available. Feel free to click the Contact Button to let me know what you are looking for and we will work together to put together the perfect lighting package for your needs


It is also possible that I may be able to get items and styles that are not listed here.

* I will also ship internationally. If you live outside the United States and would like to purchase one of my items please contact me prior to your purchase so that I may provide you with an accurate shipping quote. Thank you.

All of our products are handmade
by expert makers.