5' Raised Panel Oak Vanity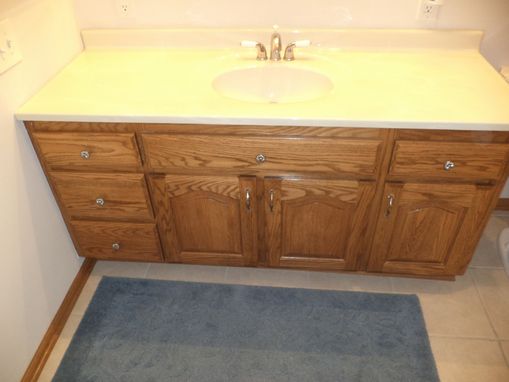 Oak vanity with 3 drawers on left side, on right side we have 1 drawer and a door with 1 adjustable shelf. Doors,drawer fronts, and faceframe solid oak. Sides are oak veneer plywood.
Made in Weeping Water, NE
All of our products are handmade
by expert makers.
Gerald S.'s review

• Apr 1st 2016

Received out cabinet yesterday and are totally satisfied. Everything was perfect. Was very easy to work with.

Michael B.'s review

• Jul 29th 2017

We are happy with the finished product and would order from him again should the need arise. I would recommend him.
There was a misunderstanding in communication regarding the drawer sizes which Mr. McGregor corrected at no extra charge. I would suggest that if you are ordering a custom made vanity or any other project to request a sketch or provide a sketch yourself and make sure that everyone is on the same page.
Mr. McGregor has a well equipped shop and has years of experience.
Our daughter and her husband are thinking of ordering a custom vanity themselves.

Michael J.'s review

• Mar 21st 2016

Started very well. Pat had no problems with some minor changes I made to his original vanity shown and agreed to build some other cabinets to go along with the vanity. Proposed sending stain samples and photos as work progressed neither of which did I receive until ready for shipment. The stain, I ended up going to HD and viewing in the paint department. No big deal. Earlier photos would I think have saved a redoing of one piece of a middle drawer and the disappointment of the drawer fronts. The middle drawer was actually my fault as a gave him one wrong dimension and he agreed to fix it at additional cost. The drawer fronts, however, I felt did not match the beauty of the doors on the vanity and the cabinets. Earlier photos may have corrected the drawers more to my liking, but may not have corrected the incorrect dimension. Shipping was fast except the cabinets should have had some shipping foam around them inside the cardboard boxes due to the unavoidable movement inside that caused some chaffing of the corners. The chaffing removed some of the stain. In addition one corner was damaged and split that luckily can be covered by some trim. Had the split continued that cabinet would be ruined. Overall, with the exception of the doors, I would rate the cabinets as a B, they did not strike your eye as a totally finished
product.